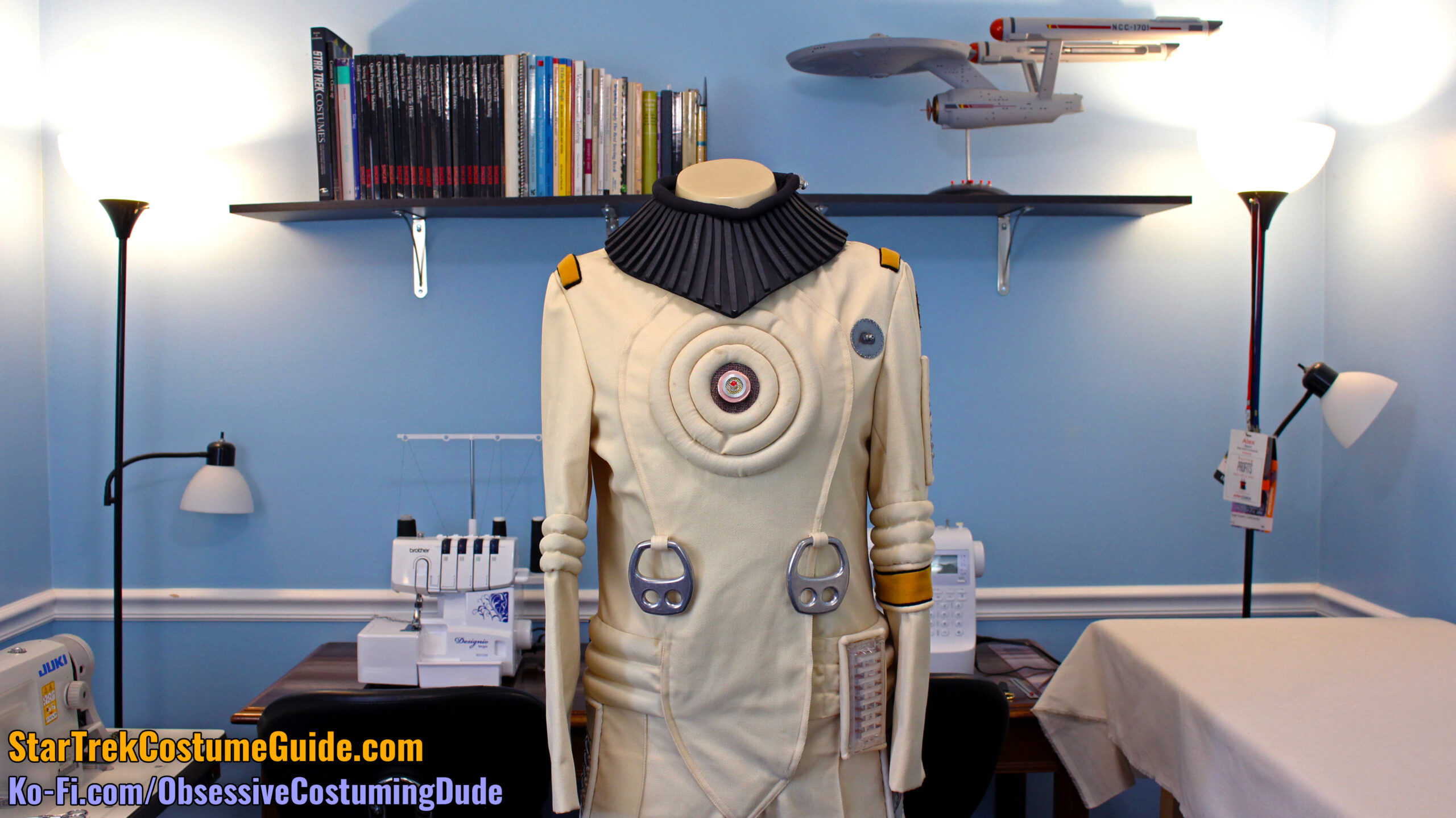 In addition to thoroughly documenting the costume's dimensions and construction, I actually extrapolated a sewing pattern from it, using a technique I learned from a book called 101 Sewing Secrets from the Singer Sewing Reference Library.
Basically, this process entails pinning or hand-basting a layer of muslin to the garment and lightly tracing the seam lines (etc.) with a pencil.
I did this for all the jumpsuit body panels!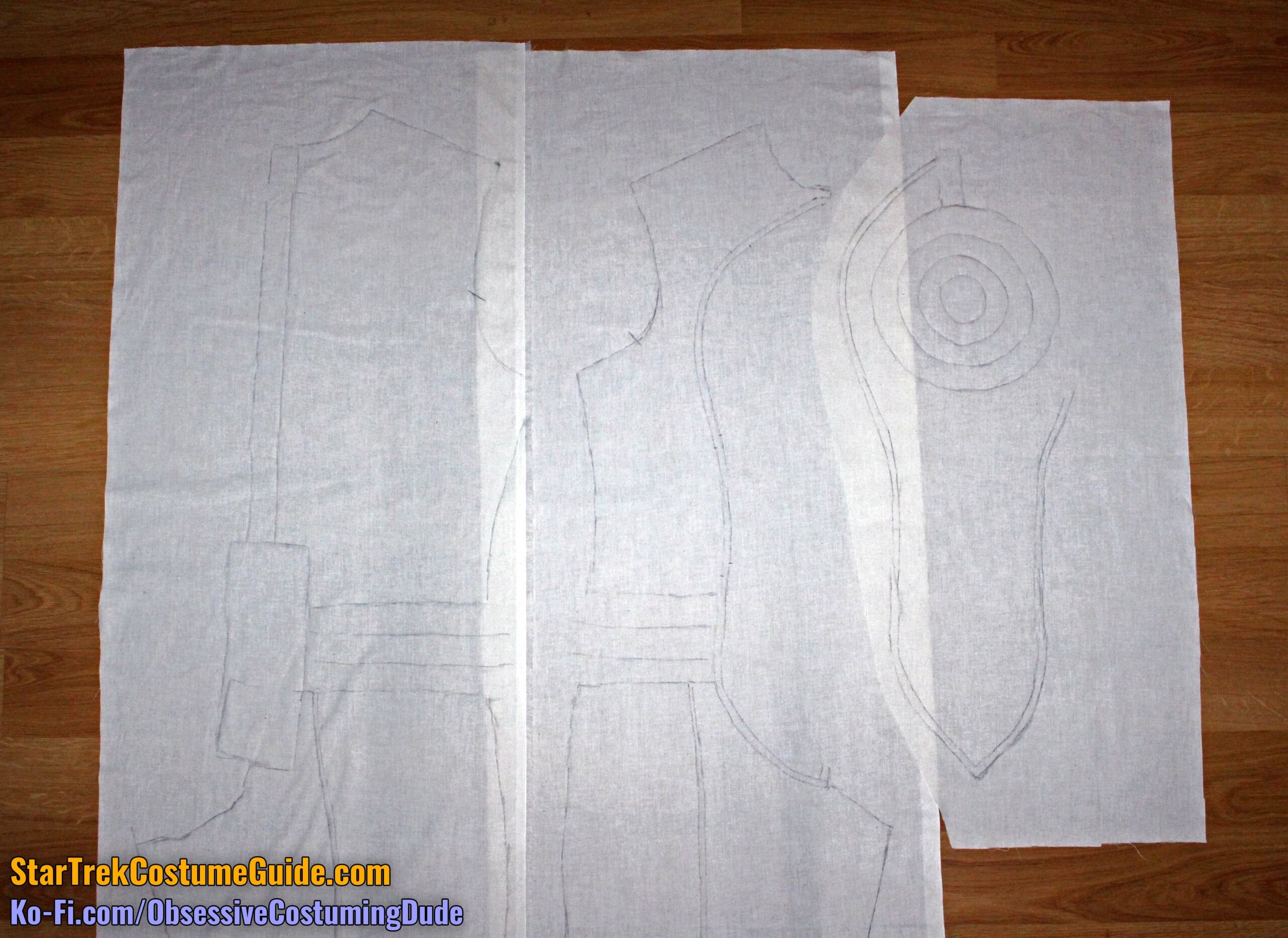 I then transferred my muslin pattern to my dot-and-cross pattern-drafting paper, "true-ing" all the seam lines with the various rulers needed and double-checking everything for accuracy.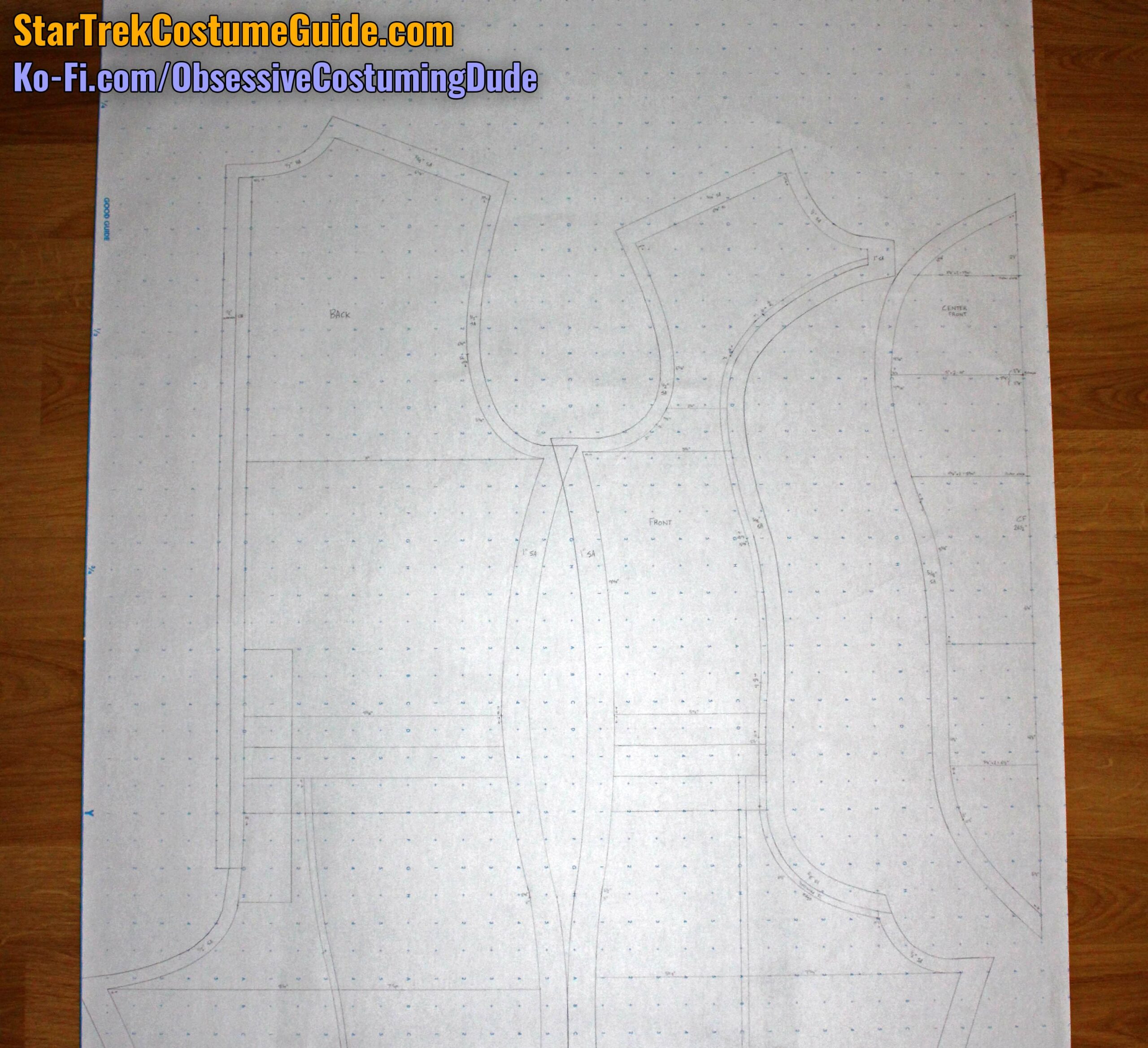 Then, I added all the appropriate seam/hem allowances to the appropriate edges and traced the pattern onto the large sheets of paper I usually use for my Tailors Gone Wild sewing patterns.
I've since had it scanned at my local copy/print shop, given it a good polish, and digitally labeled it, so it's all ready to go!
You can download my traced pattern here for free.
A few notes on the pattern draft:
The finished jumpsuit measures approximately 42" around the chest and 36" around the waist. It appears to have been intended for a wearer approximately 6' tall.
As you may recall from my costume examination, some of the specific seam lines were subtly asymmetrical. I took the liberty of making these seams symmetrical – both for my convenience, and for yours. 🙂
As you may also recall from my costume examination, the specific seam allowances occasionally tapered; I preserved (what I believe to be) the allowances as originally intended, evening them to the shape of the finished garment.
The exception is that the original upper center front seam allowances were 1 ½", but they're reduced to 1" on this pattern.
I straightened the lower back rectangle to consistent dimensions of 9 ¼" x 3 ½".
I also straightened the thigh and sleeve tubing panel assemblies.
The upper center front, side, and inseam allowances are all 1". The shoulder seam allowances are ¾". The sleeve and front panel seam allowances are ⅝". The armscye and crotch seam allowances are ½". The neckline hem allowance is also ½". The pant leg hem allowances are 3", and the sleeve hem allowances are 2".
This traced pattern is VERY close to the original, but you'll want to allow a tiny margin (say, about ⅛" in any given direction) for "human error."
Anyway, I hope you enjoy the free pattern. 🙂
If you appreciate this pattern download and would like to see more like it, please support my costume research on Ko-Fi.
Every bar of gold-pressed latinum goes toward producing more sewing/costuming resources like this, for everyone interested in Star Trek costumes. 🙂