Of course, a thorough examination of the season 1 admiral uniforms would be incomplete without a look at the infamous brooch worn on the upper right shoulder area.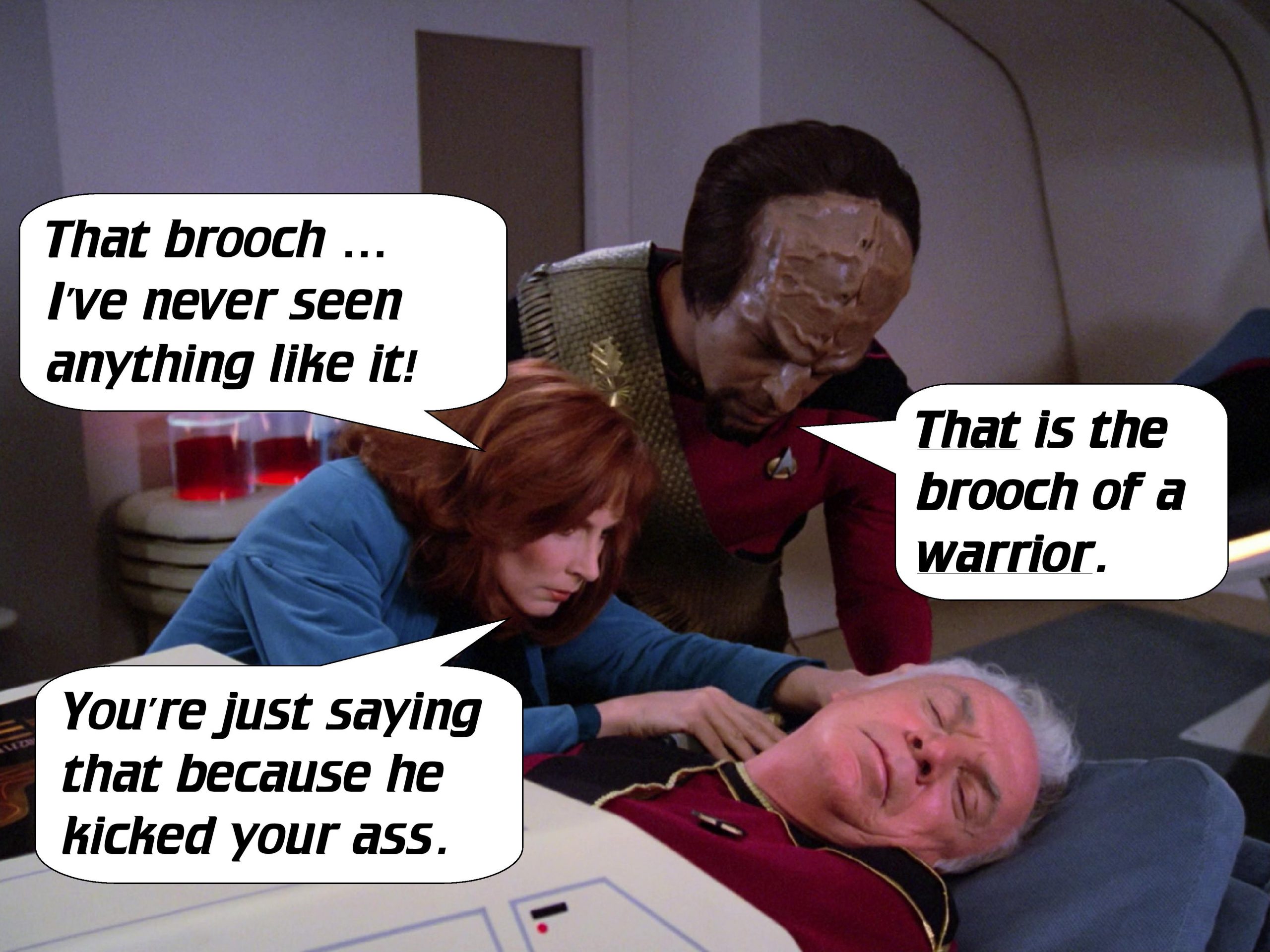 Here are some close-up auction photos: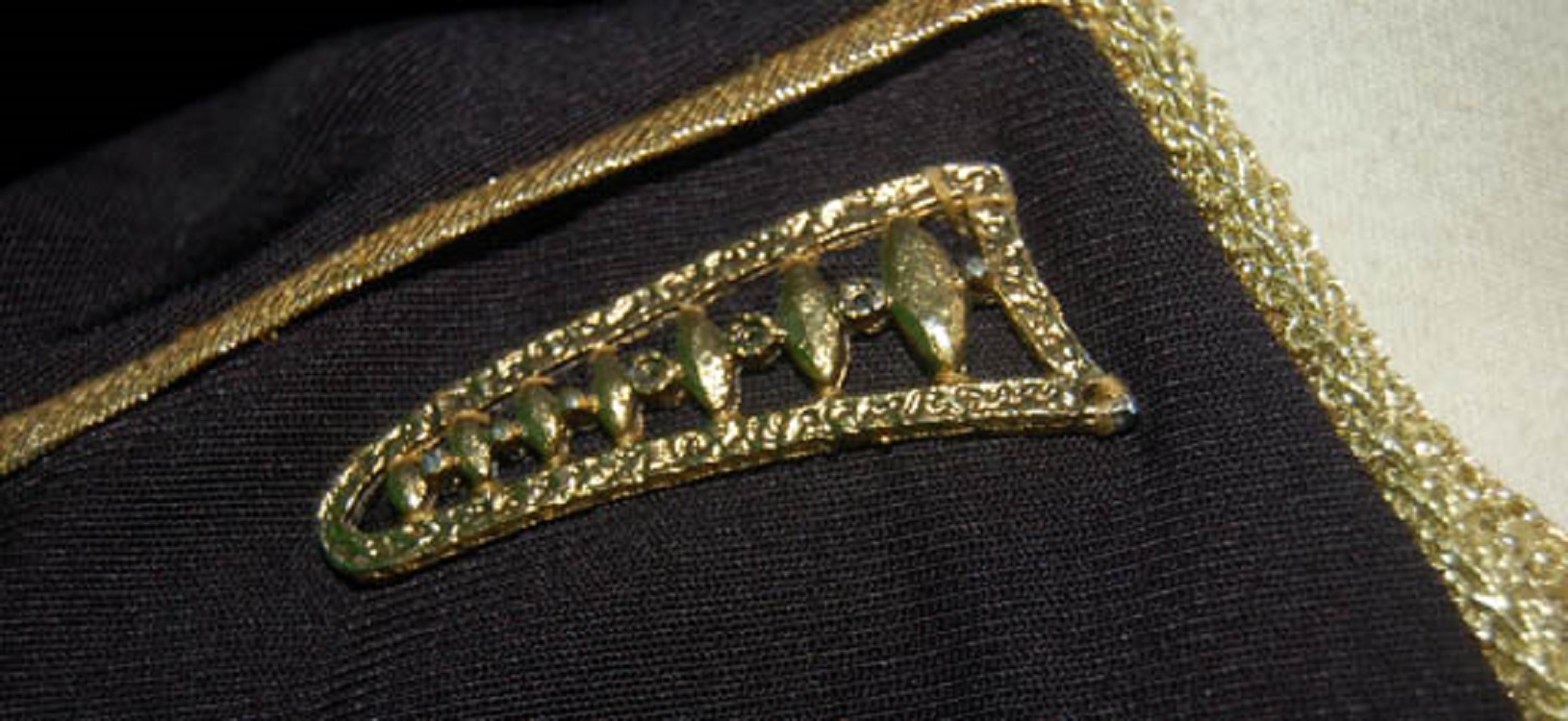 Although all admiral appear to have worn the brooch, the actual rank appears to have been indicated by standard TNG-era rank pips worn beneath the brooch.
Rear Admirals Jameson and Quinn, for instance, wore no pips – just the brooch.
Admiral Vulcan wore a single pip beneath his brooch, and Admiral Whitey wore two.
Another fun fact – the infamous brooches popped up a couple more times over the course of the series.
This Tau Cygna V colonist's coat featured a half-dozen or so, albeit in silver:
Special thanks to Jörg Hillebrand for bringing that one to my attention.
The other appearance was in the series finale; a trio of them adorned alternate future Data's smoking jacket.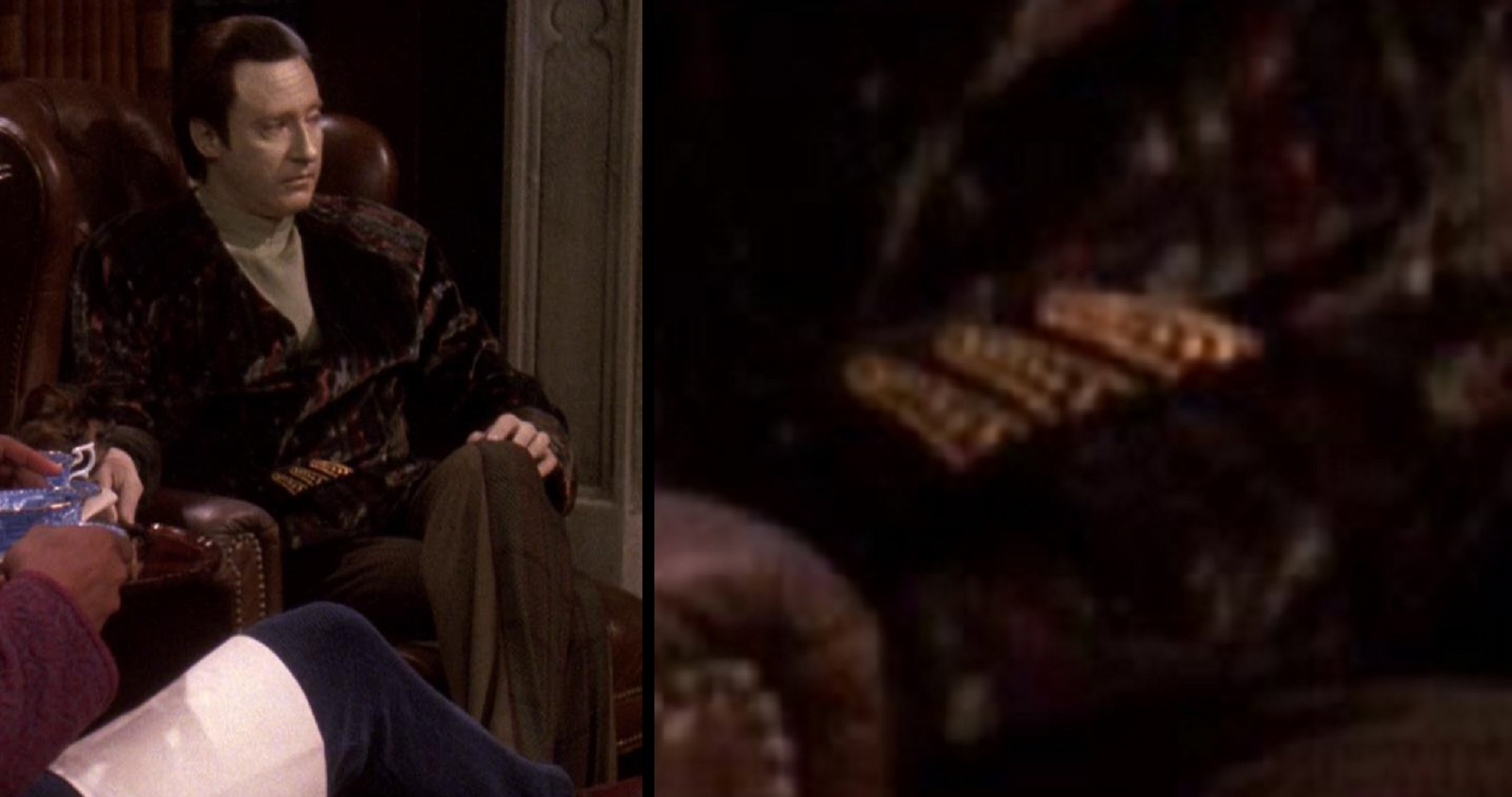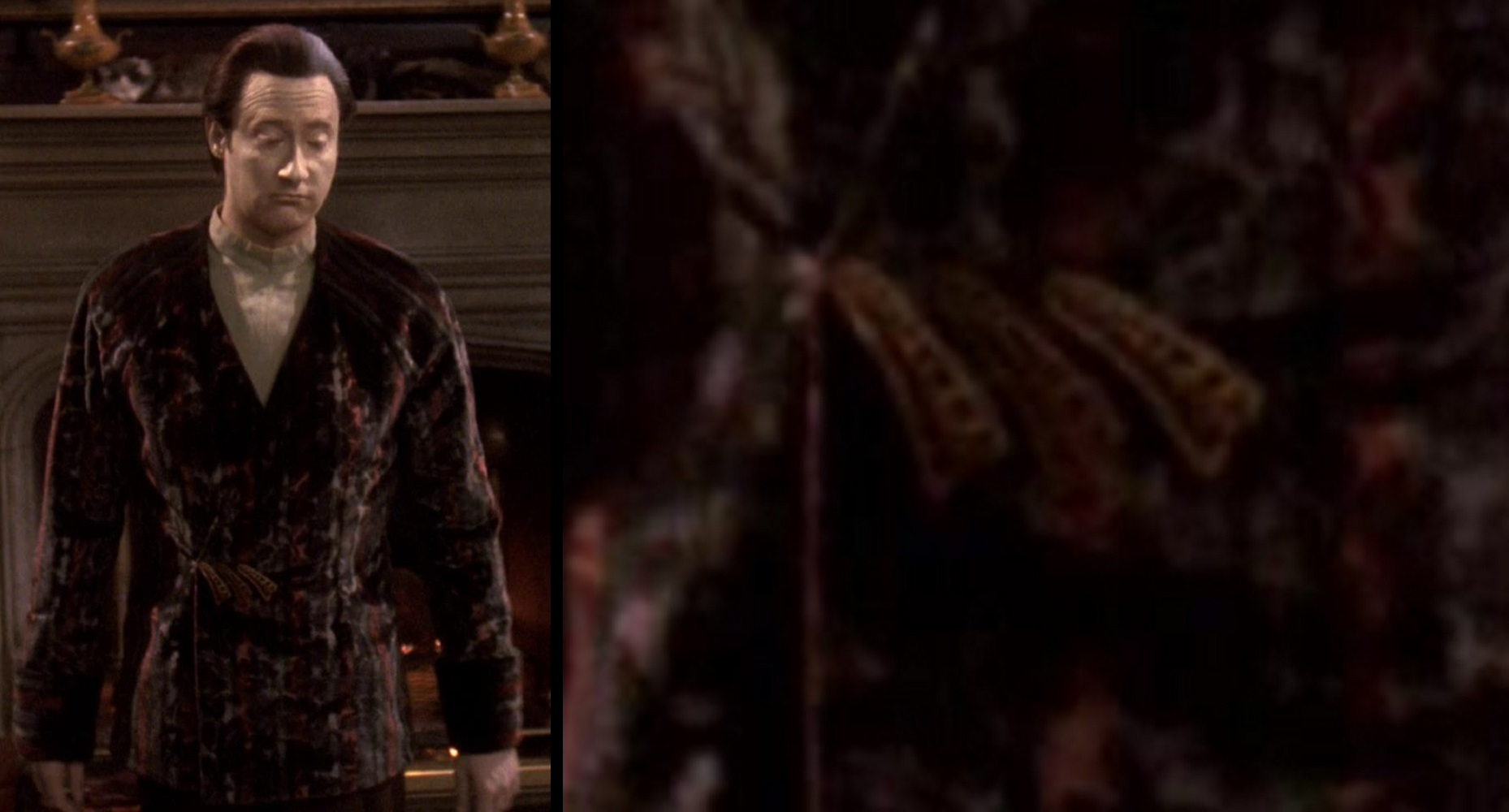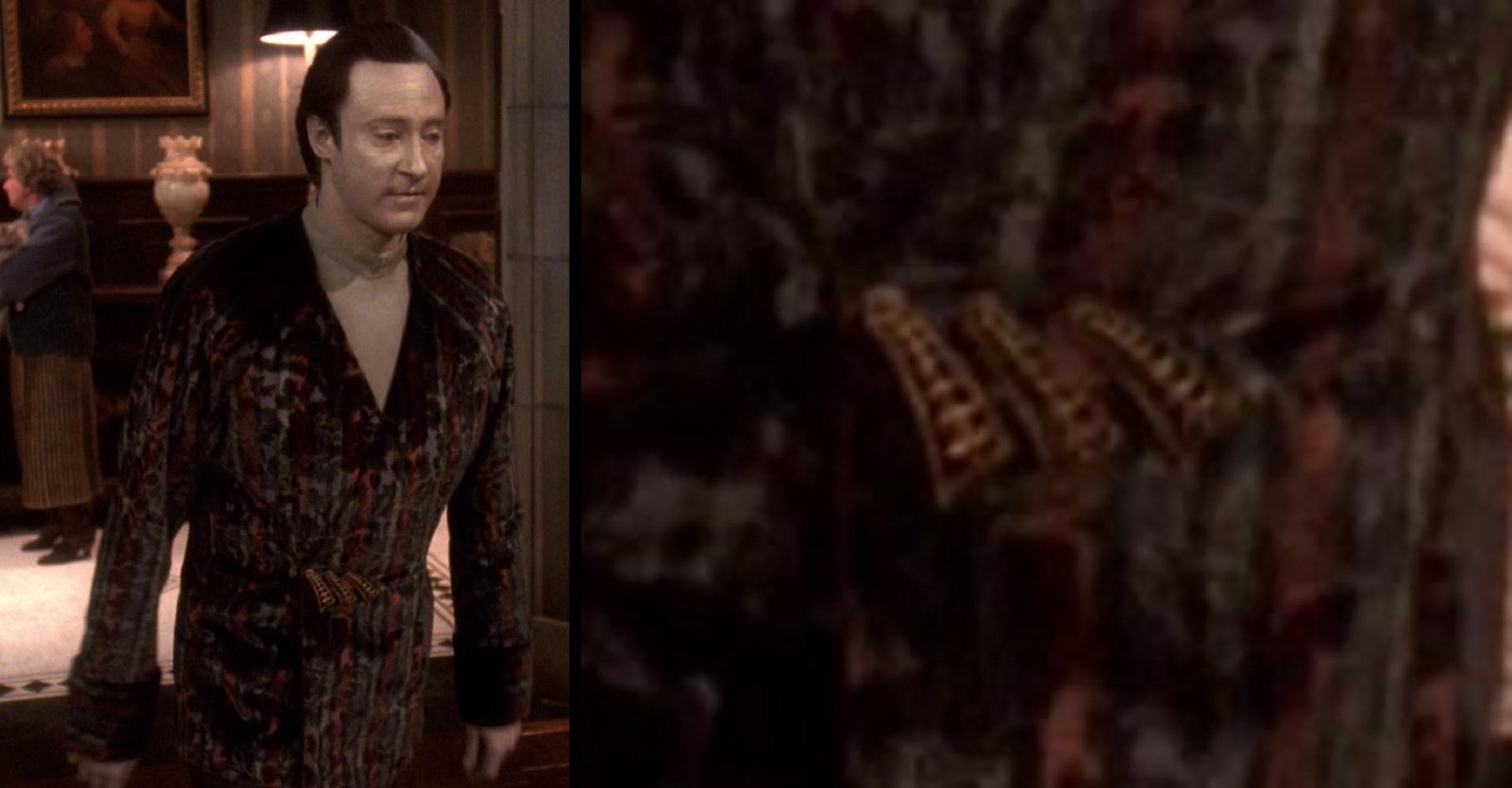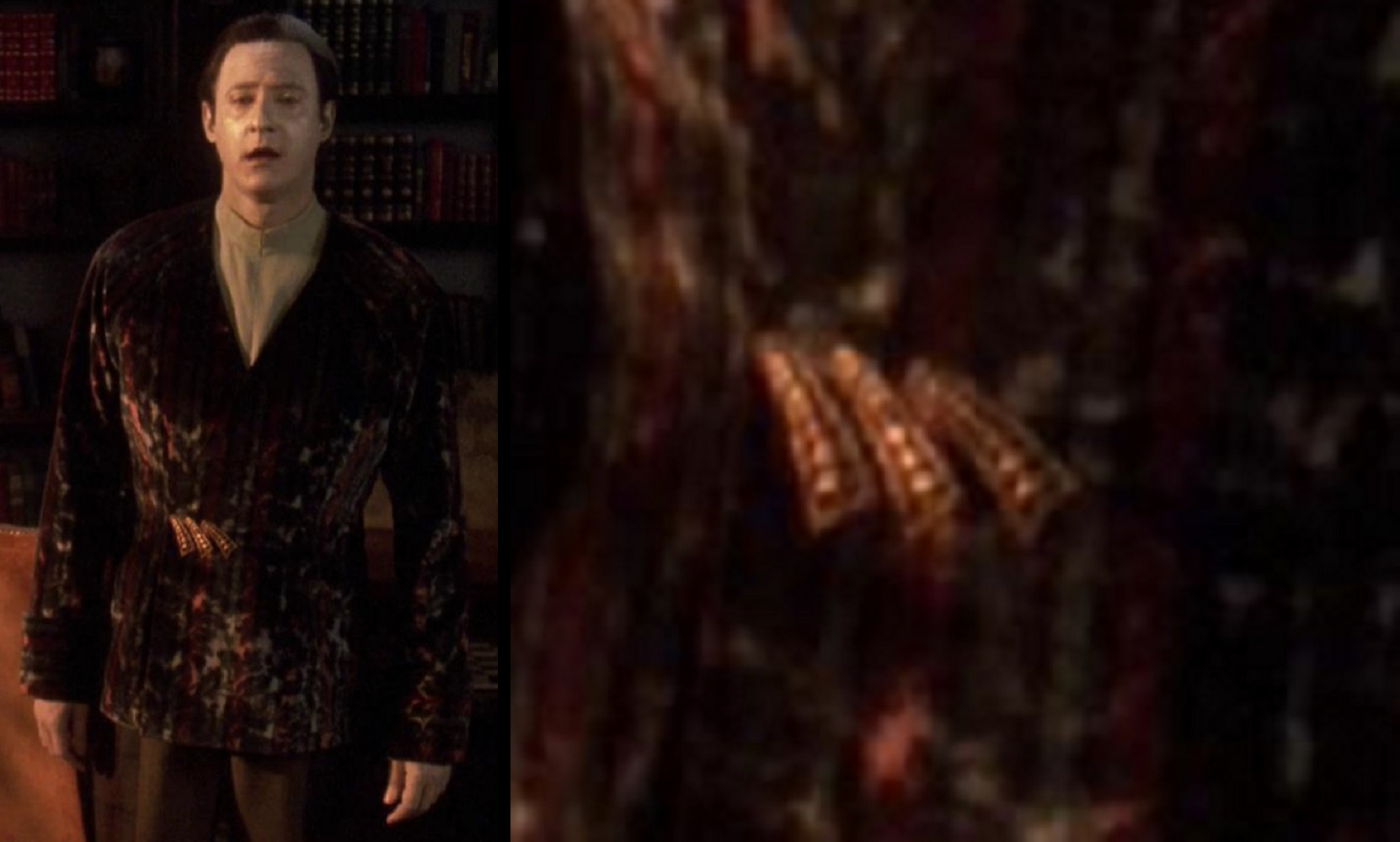 Special thanks to Michael Cowart for catching this one and pointing it out to me.
Good eye, fellas! 🙂
The jacket closed up the front via a separating zipper, just inside of the diagonal front trim.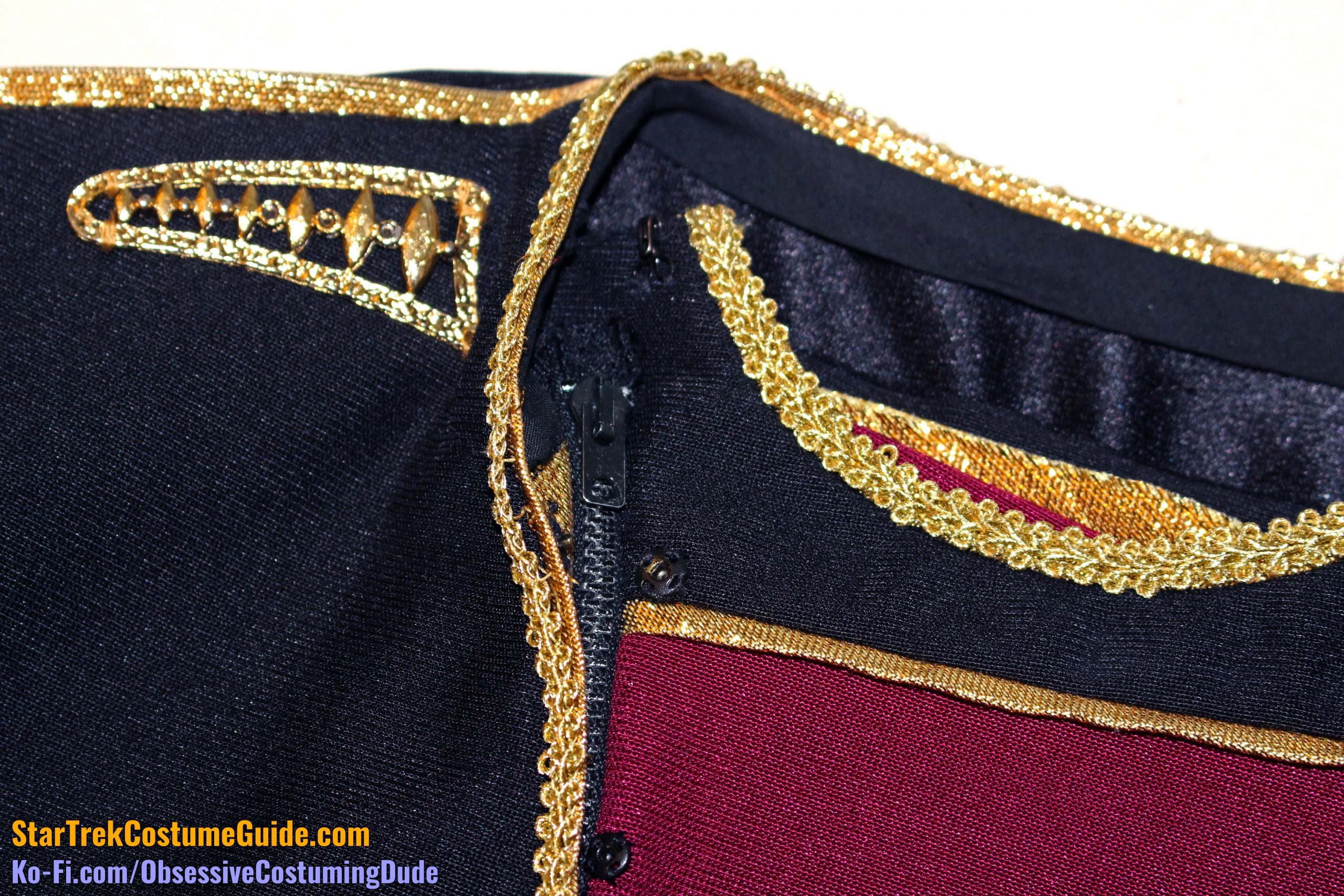 Above the zipper was a hook-and-eye closure to fasten the neck to the shoulder.
These precautions were mostly effective, and clearly necessary, since the diagonal front edge was prone to pulling back away from the zipper.
Beneath the zipper were two more hook-and-eye closures.
Like the other TNG-era uniforms, the shoulder/armscye area on both versions of the season 1 admiral jackets were smooth and rounded, raglan-style.
Unlike the shoulder pads on the ladies' TNG skant, which had a large surface area but only a slight amount of loft, the shoulder pads on this admiral uniform had quite a bit of loft to them.
They appear to have been constructed in an identical manner: ovular, with padding enclosed between two layers of black lining, a dart establishing the rounded shape, stitched twice around the perimeter, and edges trimmed with pinking shears.
However, they were also considerably larger – approximately 9 ¼" x 6 ½".
The shoulder and outer sleeve seams were accented with the same gold trim as the lower yoke, and at the bottom of each sleeve was a small, black, triangular insert, also accented with gold trim.
The sleeve hem was also accented with gold trim, wider than that on the rest of the garment. 
The lower sleeve trim was simply sewn onto the sleeve hem.