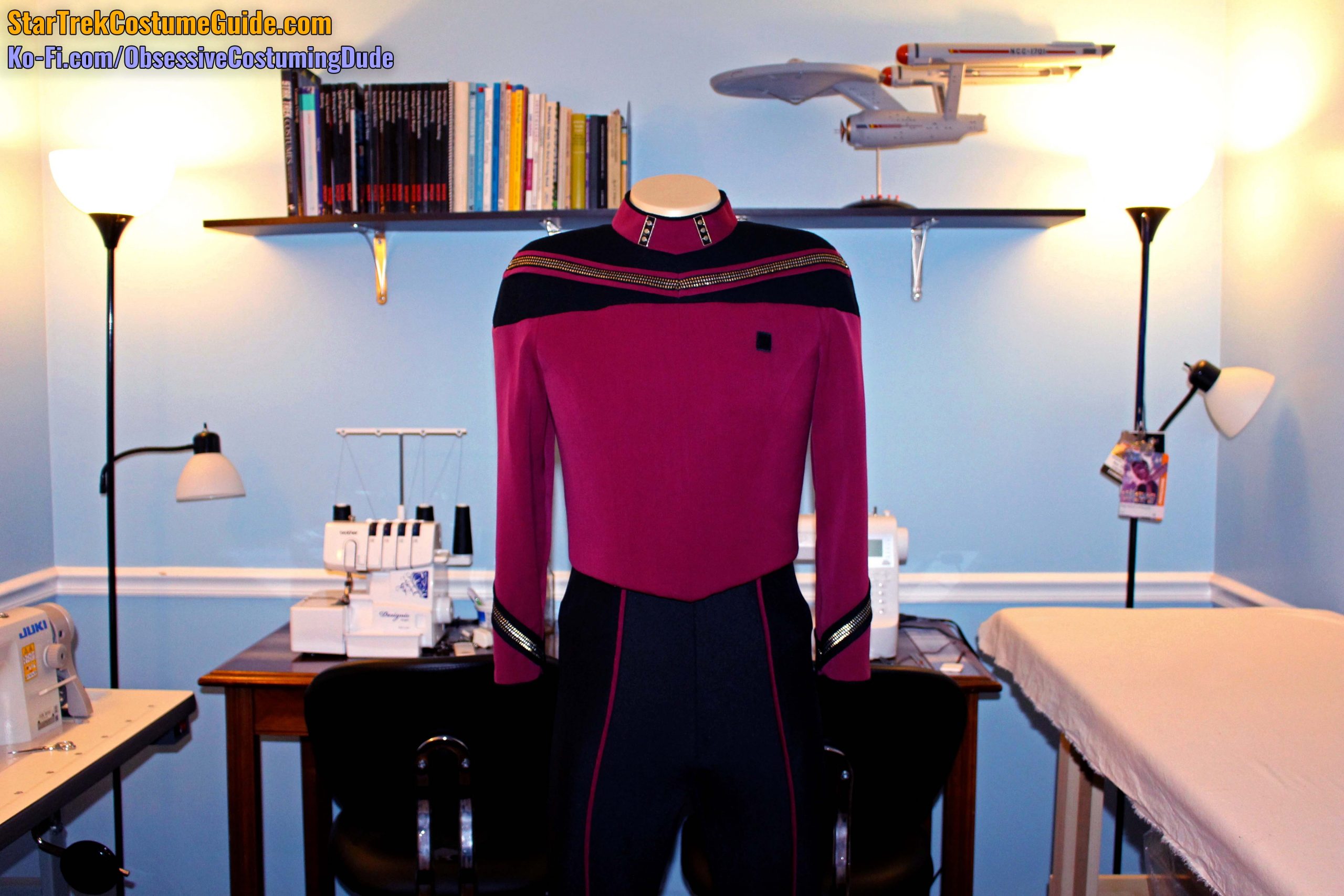 In addition to thoroughly documenting the costume's dimensions and construction, I actually extrapolated a sewing pattern from it, using a technique I learned from a book called 101 Sewing Secrets from the Singer Sewing Reference Library.
Basically, this process entails pinning or hand-basting a layer of muslin to the garment and lightly tracing the seam lines (etc.) with a pencil.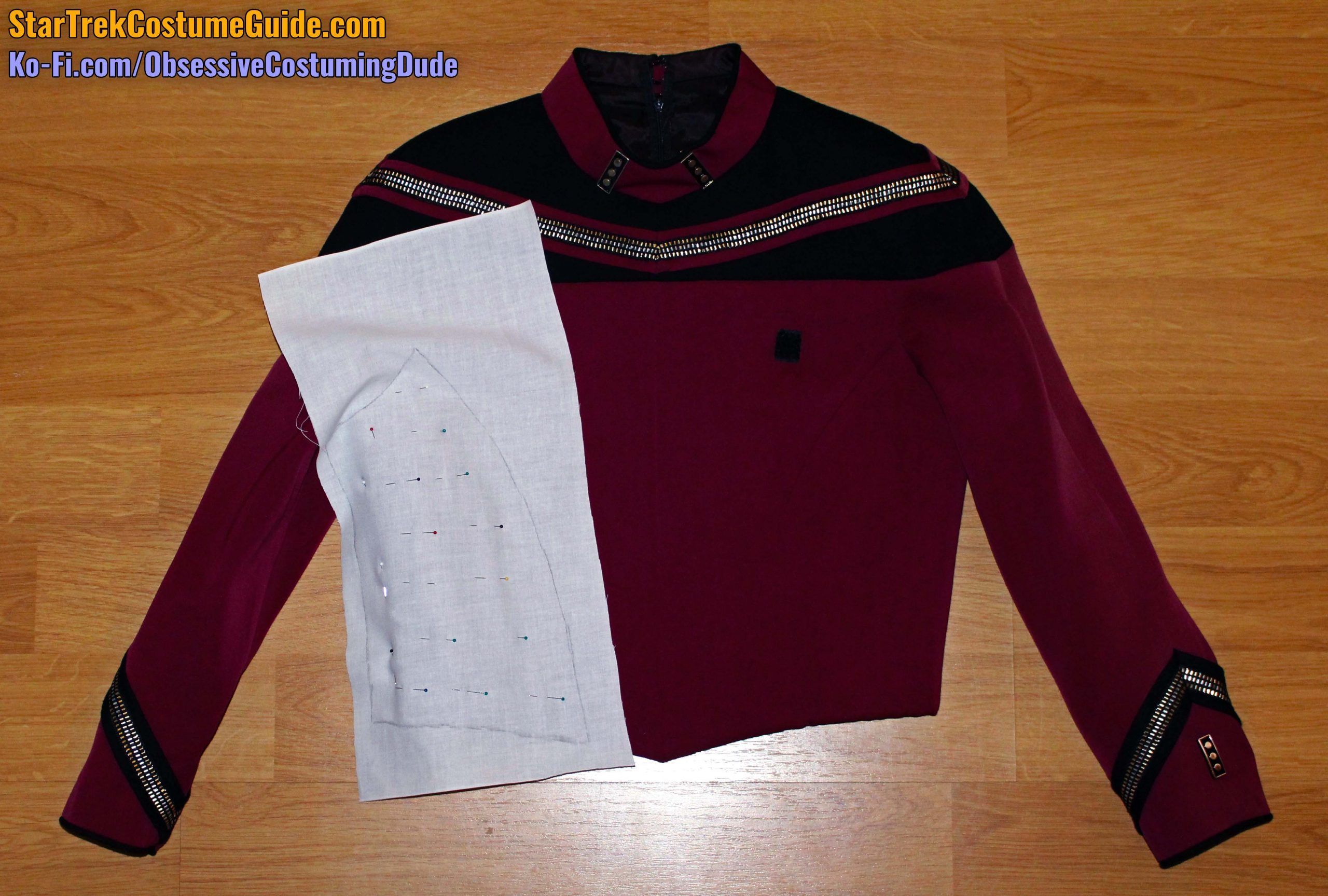 I did this for every piece of the uniform jacket AND trousers.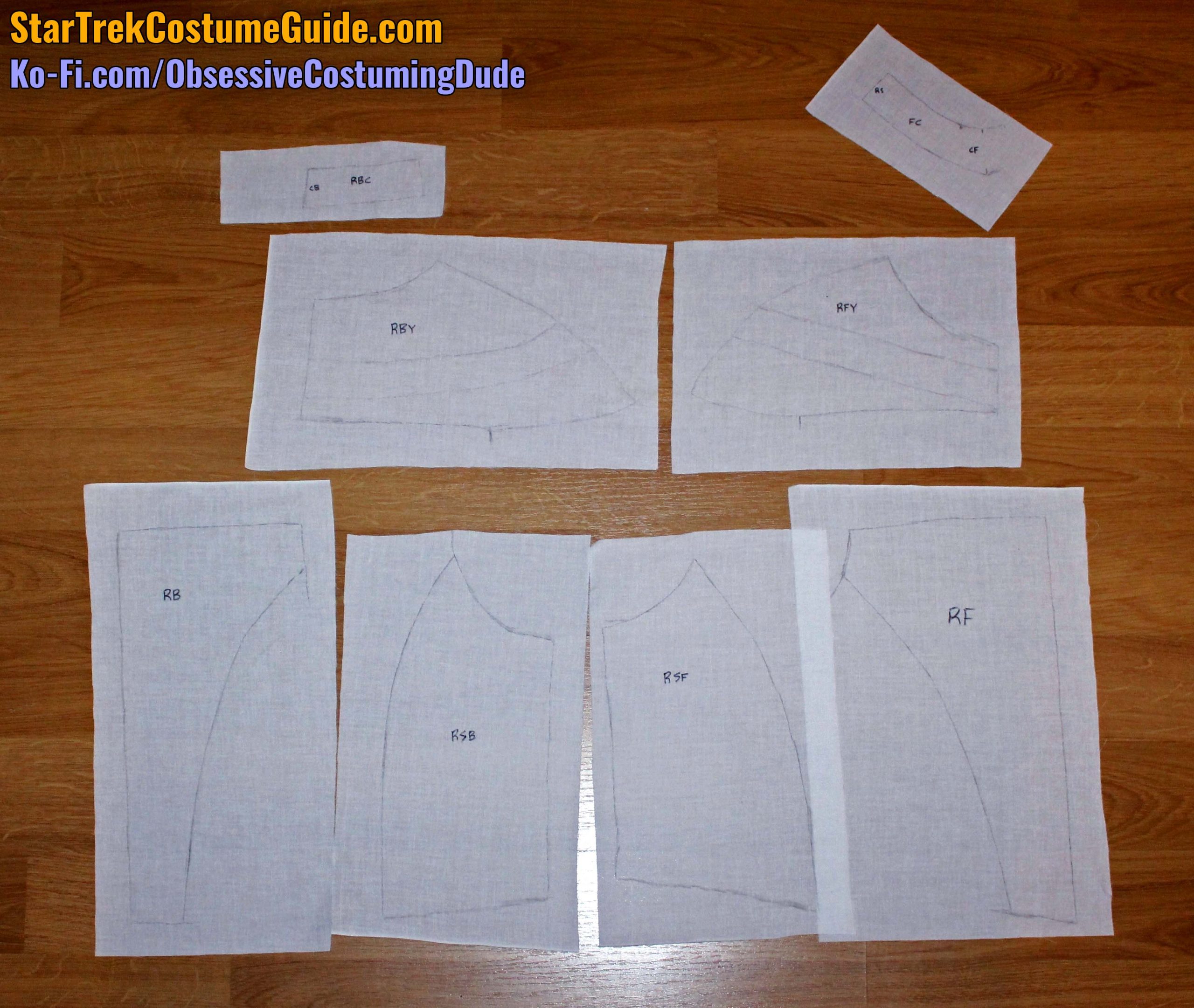 Then, I added all the appropriate seam/hem allowances to the appropriate edges and traced the pattern onto the large sheets of paper I usually use for my Tailors Gone Wild sewing patterns.
I've since had it scanned at my local copy/print shop, given it a good polish, and digitally labeled it, so it's all ready to go!
You can download my traced pattern here for free.
A few notes on the pattern draft:
This uniform is approximately a men's size 36 and will best fit a wearer approximately 5'5" tall.

The finished jacket measures approximately 40" around the chest and 34" around the waist (the bottom of the jacket).

The finished trousers measure approximately 30" around the waist and 37" around the hips.

I used the same pattern pieces for both sides of the jacket. (On the screen-used uniform I examined, a couple of the jacket body panels were slightly different sizes.)

I used the same pattern pieces for both the jacket shell and lining panels, although there were some minor differences on the original jacket. (Specifically, I omitted the extra back yoke lining "mystery seam" and added an outer sleeve lining seam.)

All seam allowances are ½" unless otherwise indicated on the pattern. (Specifically, the trousers' side seams and inseam have 1" allowances. The front zipper Is 1" as well, but ½" beneath the zipper. Also, the jacket collar's center back seam allowance is ⅝".)
This traced pattern is VERY close to the original, but you'll want to allow a tiny margin (say, about ⅛" in any given direction) for "human error."
FYI, I will probably wind up doing fully graded Tailors Gone Wild sewing patterns for this uniform, provided I can find an acceptable substitute for the metallic yoke/sleeve trim. (The best I've found so far is a retail Yaya Han trim, but it's too wide and only has two rows of studs instead of three.)
Regardless, I hope you enjoy the free pattern. 🙂
If you appreciate this pattern download and would like to see more like it, please support my costume research on Ko-Fi.
Every bar of gold-pressed latinum goes toward producing more sewing/costuming resources like this, for everyone interested in Star Trek costumes. 🙂